Bachelorette Goody Bags & Party Favors
I am absolutely thrilled that you guys enjoyed my Bachelorette recap as much as you did. Today I'm excited to share the goody bags I created for each guest on the trip.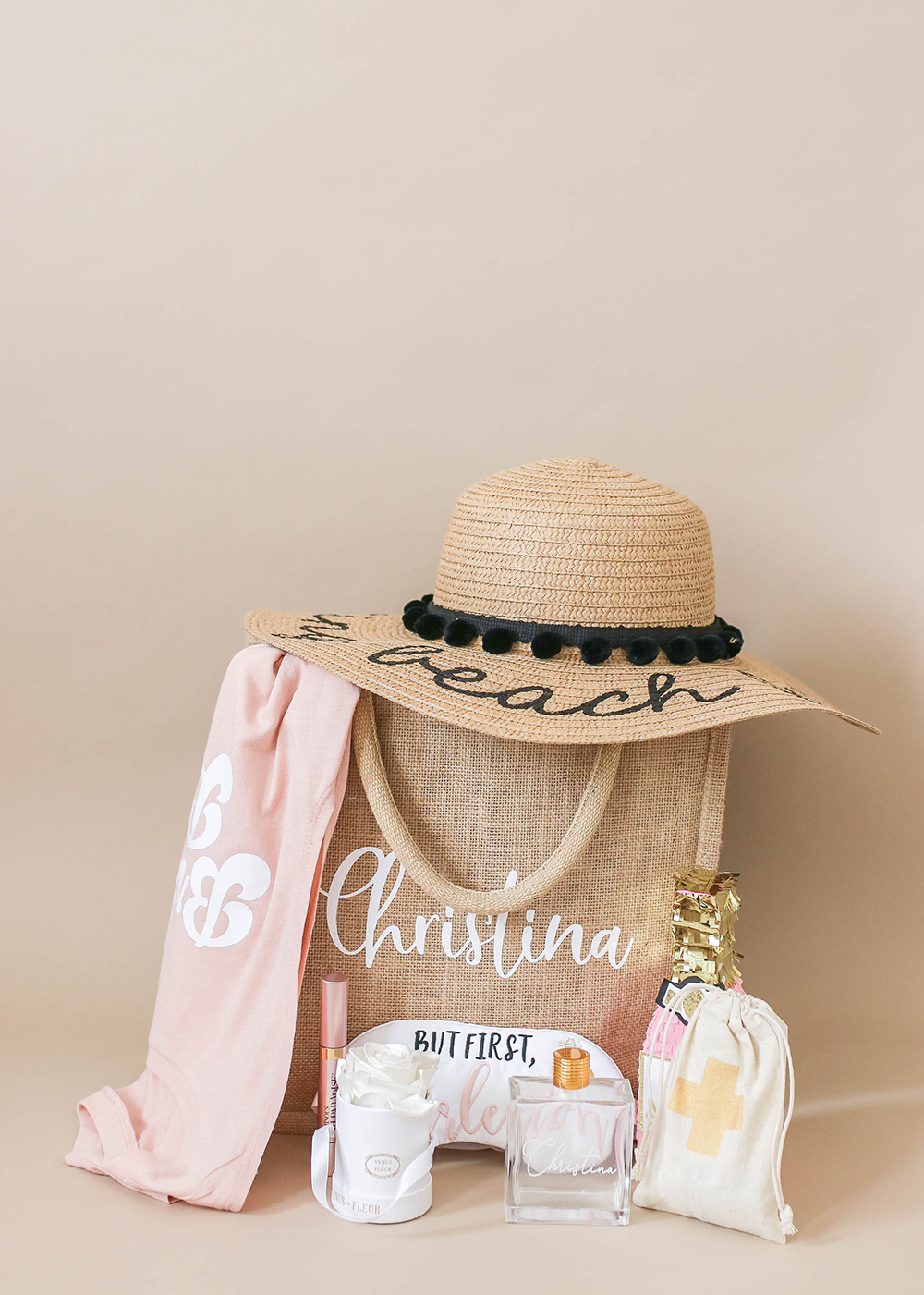 I am absolutely thrilled that you guys enjoyed my Bachelorette recap as much as you did. Today I'm excited to share the goody bags I created for each guest on the trip. If you've been reading my blog for some time, then you know I love a good swag bag/gift box situation (check out my bridesmaid proposal boxes here).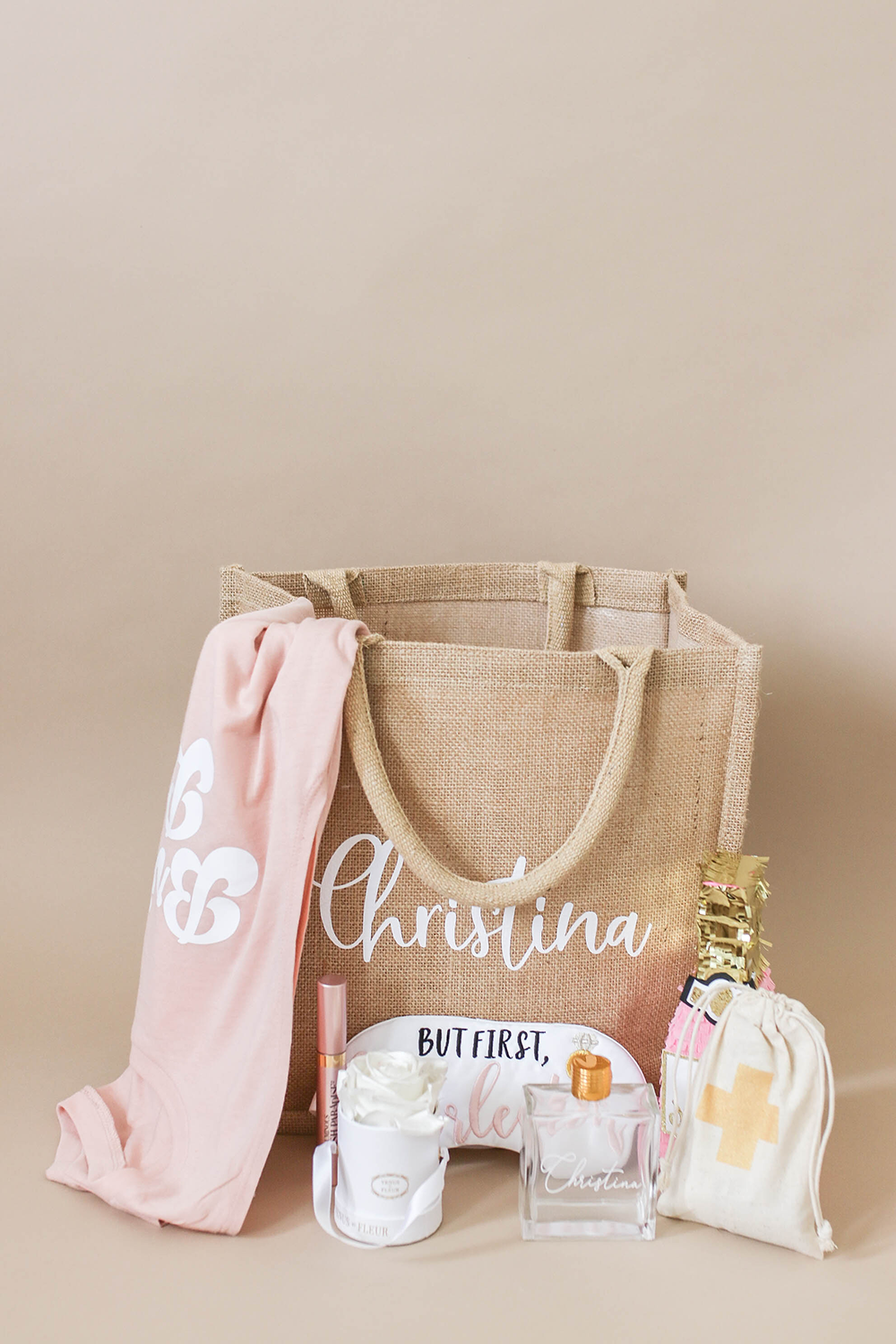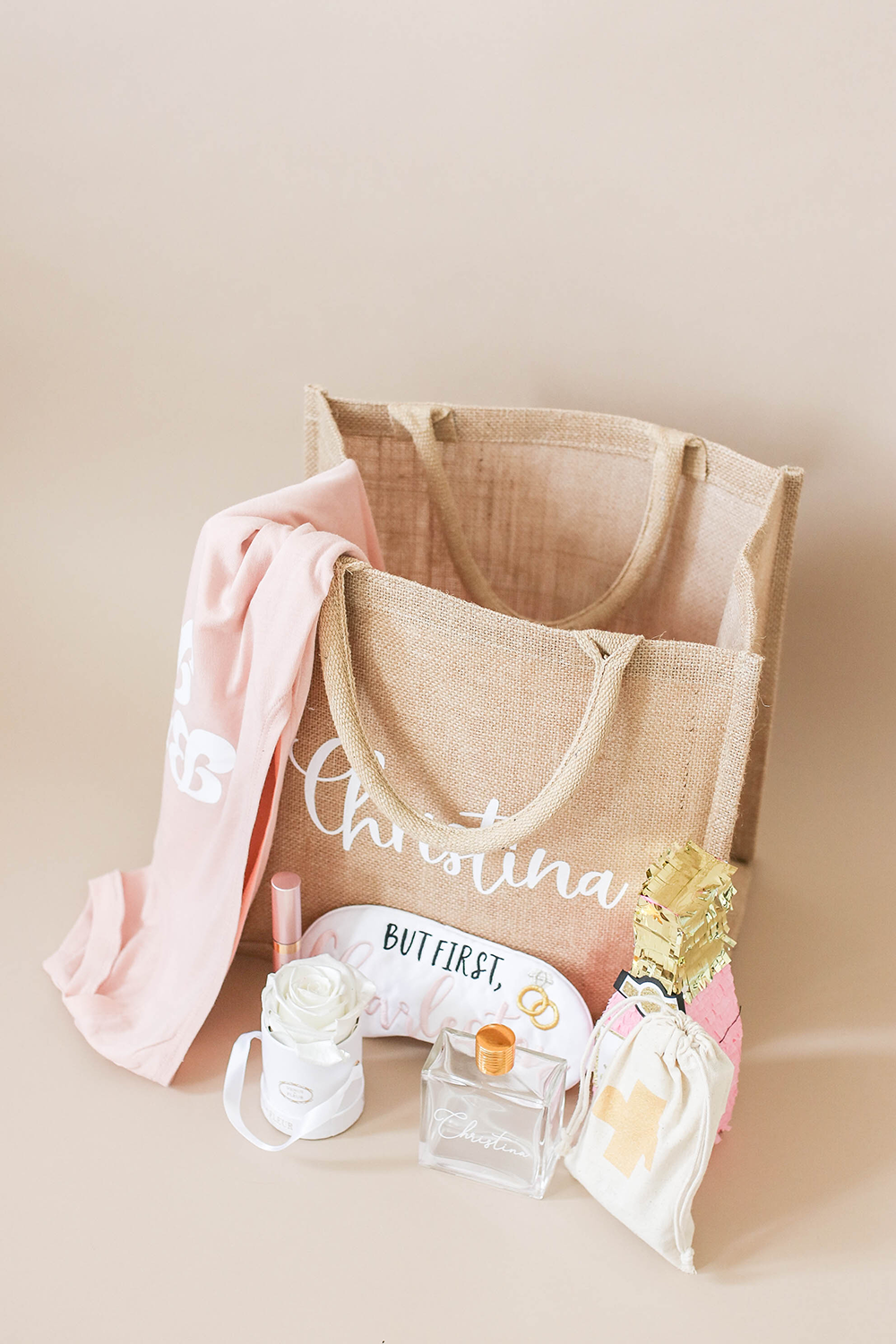 For the actual goody bag itself, I opted for these jute bags. I thought they were so cute, made the most sense for a beach trip, and loved that they could be personalized with each girl's name. They also hold a surprising amount of stuff, which is great!
In each bag, I included a tank top, eye mask, mini rose arrangement, mini piñata, glass drinking bottle, hangover kit, face mask, and mascara. I also topped each bag with a fun sunhat.
Personalized Bags | Etsy
Tank Top | Keep Life Simple Design
Eye Mask | The Sleepy Cottage (similar in-stock version)
Mini Rose | Venus Et Fleur
Mini Champagne Piñata | LulaFlora
Glass Bottle | Etsy
Hat | Taking It Easy
Hangover Bag | Amazon
Mascara | L'Oreal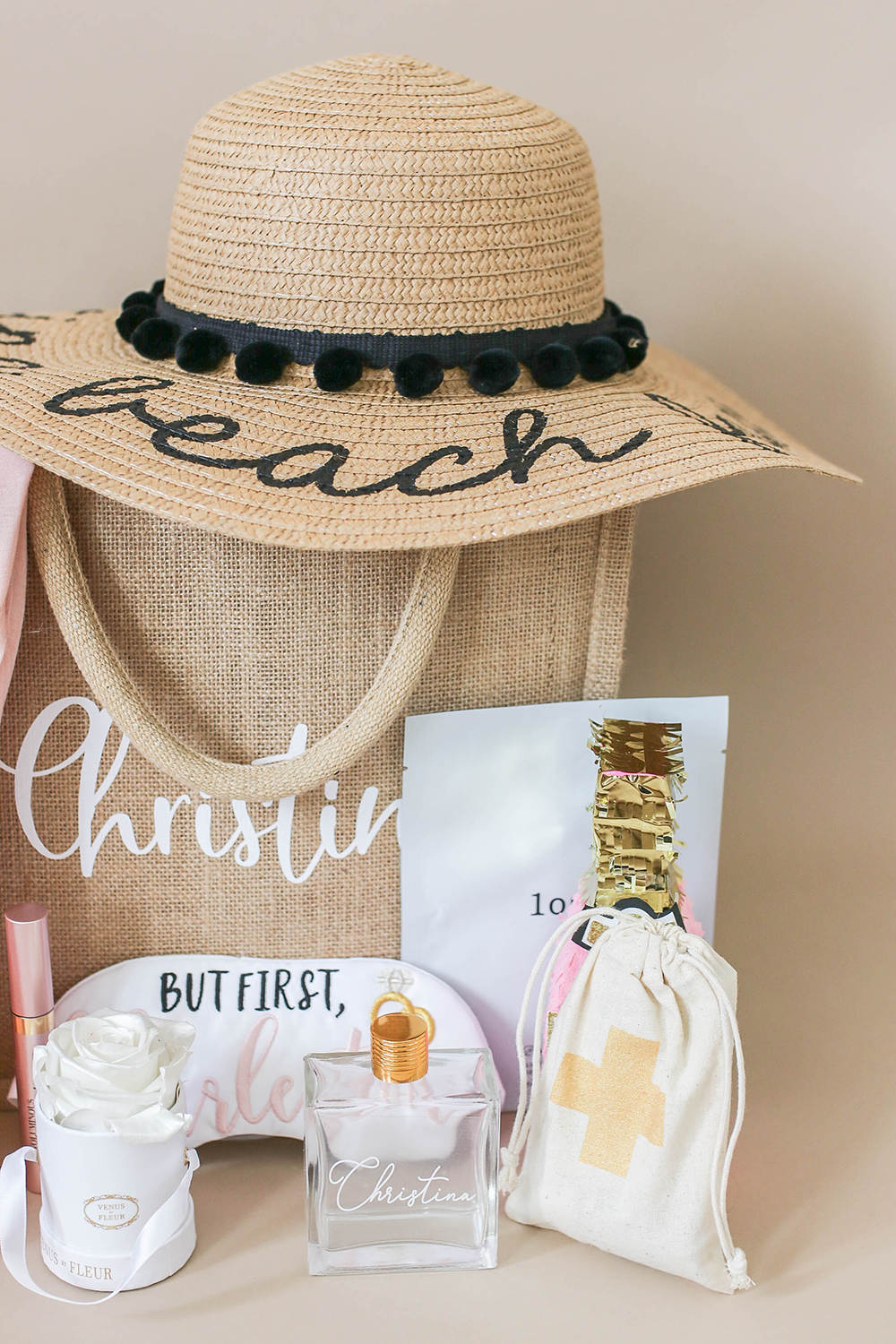 The tank tops I included in each bag were designed and created by Keep Life Simple Design (they also designed the sweatpants and sleep shirts for the trip). I was so excited that they were able to create the tank in a color that is super similar to my bridesmaid's gowns for the big day. While I loved the white bride version I had, I'll admit that I was a little jealous that everyone else got to wear my favorite color, dusty blush. The tanks are super comfortable, ultra soft, and incredible quality, which is always a plus! I also love how I was able to customize them to say Bride's Babes, so that they worked for other girls on the trip who aren't bridesmaids.
The sun hats were designed by Taking It Easy, and I couldn't be more in love. They have such fun sassy sayings, and they were perfect for a beach trip. *Click here to shop the hats*
The glass bottles are from Etsy, and I just thought they were the prettiest! Everyone in the group loved how they could be used for a million different things!
Each bag also included a mini arrangement from my favorite floral company, Venus Et Fleur. I also gave each bridesmaid one when I "proposed" to them, and they all still have it from over a year ago.
The adorable mini piñatas are from LulaFlora, and everyone went crazy over them. Are they not just the cutest?! You can fill them with whatever little treats you want, and they would work great as place cards for your next party or event. She also offers tons of other mini pinata designs that are hard to resist.
I was able to create the hangover kits for the goody bags myself thanks to my trusty Amazon Prime subscription. In each hangover bag, I included Advil, a pack of gum, and hand sanitizer from Bath & Body Works.
The eye masks were designed and customized by The Sleepy Cottage. I thought they were just the prettiest touch! I love how they include the city we visited so that we can always remember the trip. She can customize it to whatever city you're visiting on your bachelorette. (Since our wedding, The Sleepy Cottage has closed her Etsy shop so here is a similar
A goody bag wouldn't be complete without some beauty products. I included my favorite mascara of all-time, L'Oreal Lash Paradise, as well as a face mask.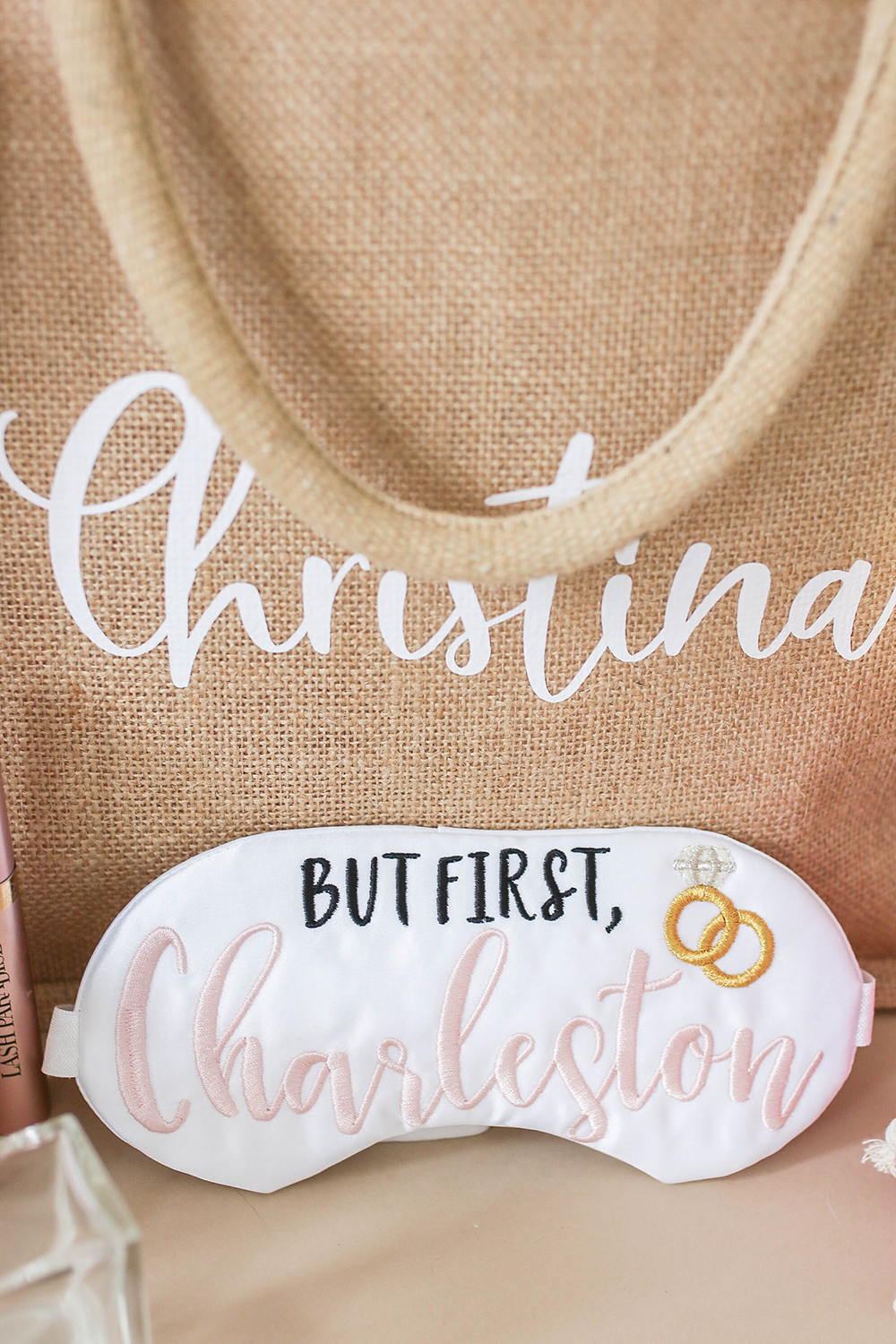 For a full recap of my Bachelorette trip to Charleston, be sure to check out this blog post.
Last Updated: Apr 21, 2023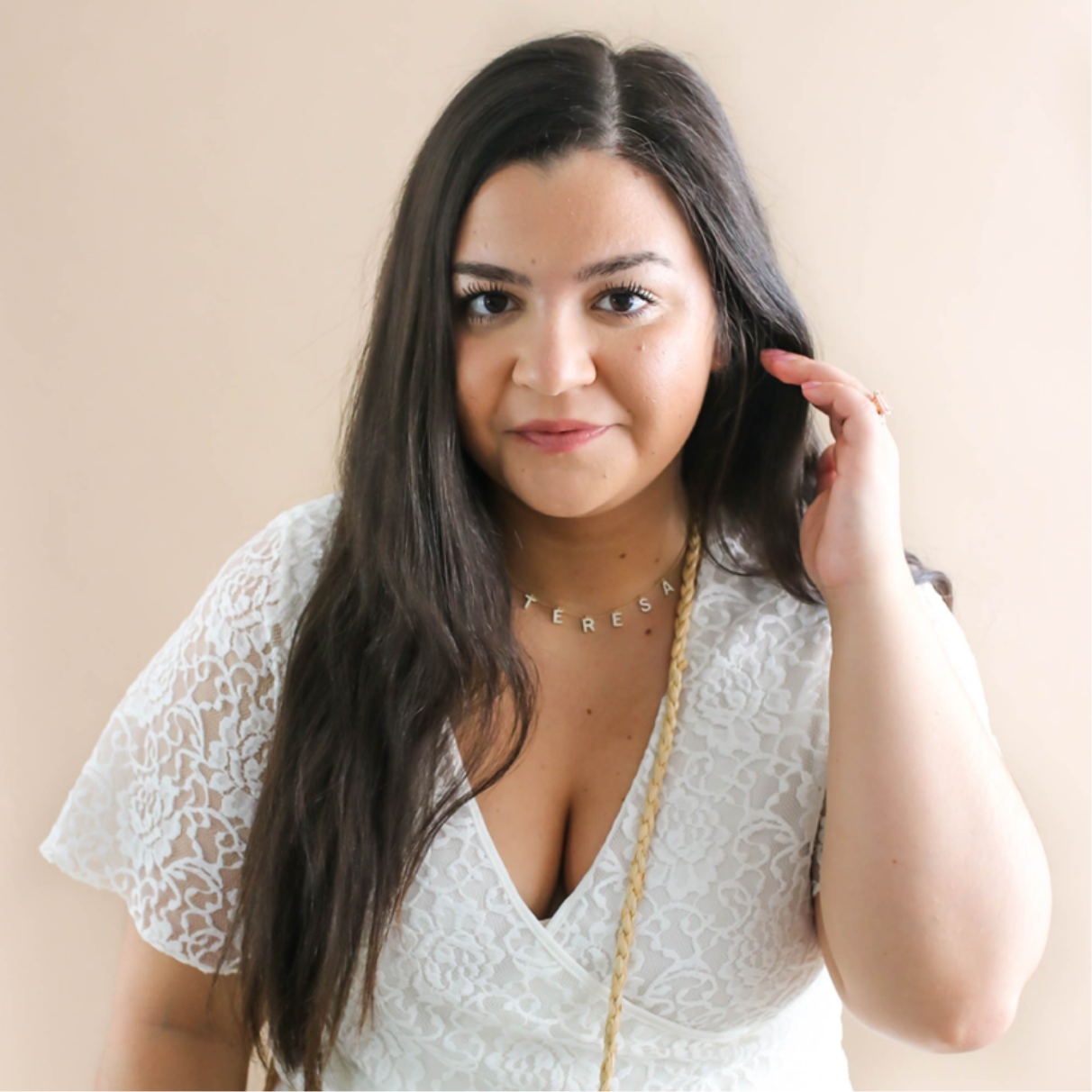 You might also like