Stoney Clover Shopping Guide
If you follow me on Instagram, then you've caught a glimpse at my Stoney Clover collection. I discovered the brand when I was planning my wedding, and I have been obsessed ever since! Stoney Clover designs pouches, bags, and other accessories that can be customized with their amazing selection of patches.
If you follow me on Instagram, then you've caught a glimpse of my Stoney Clover collection. I discovered the brand when I was planning my wedding in 2018, and I have been in love ever since! Stoney Clover creates pouches, bags, and other accessories that can be customized with their extensive selection of patches. Customizable products are my weakness, so I was instantly drawn to the brand. Between their core collection of products, and limited edition collaborations, the options are truly endless.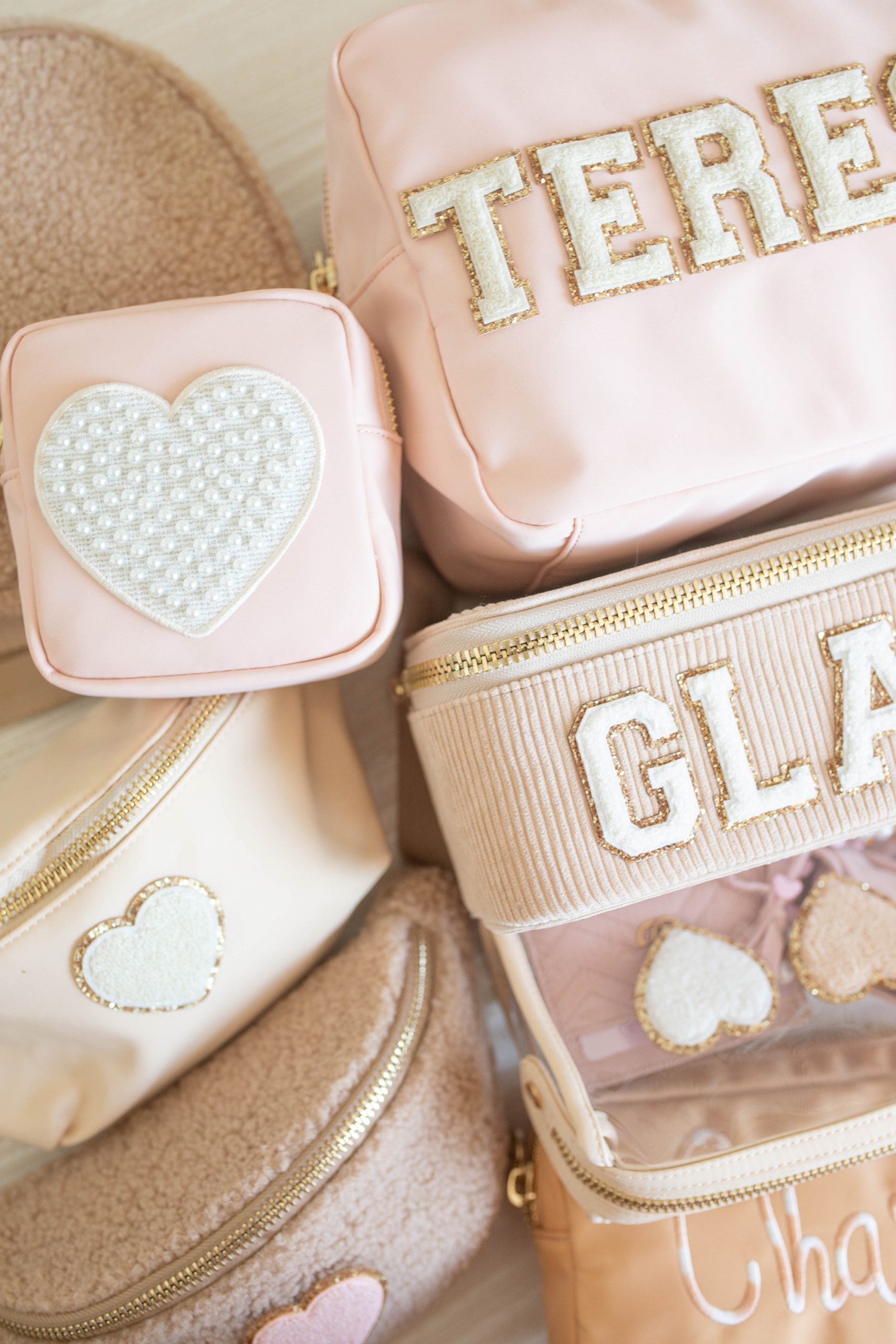 At this point, I have a pretty large collection, so I decided to put together the ultimate Stoney Clover Shopping Guide for you to shop this holiday season! I've done one of these shopping guides before and you guys loved it, so this is the completely updated version with new Stoney Clover styles and some of my newest favorites. When I think of Stoney Clover, I instantly think of gifting, so they're a great brand to shop if you're looking for some gift ideas for family and friends. Some of the styles you can order pre-designed from sites like Revolve and Shopbop for quick shipping, so you'll see some of those links in here too!
This is also SUCH a good time to snag the Stoney Clover piece(s) you've been eyeing because they're having their ONE SALE of the year TODAY! Everything on the site is currently 25% off (with the exception of their Mickey & Friends Holiday Collection and London collection). This is the only time they have a sale so definitely grab your favorites if you can, click here for the sale.
Before we get into the styles, I wanted to give you a little more background info. Stoney Clover has a core collection that consists of over a dozen classic colors. Their core collection is available all-year round. Think of it as their staple collection. However, throughout the year they typically release quite a few limited seasonal collections, as well as limited edition collaborations. The seasonal collections usually consist of new color-ways, prints, and textures, while the limited edition collaborations involve Stoney Clover partnering with other major brands. Recent partnerships include Disney, Star Wars, and Barbie. Both the seasonal collections and collaborations are typically limited and do tend to sell out quickly, so they are definitely the releases that you want to shop right away if you're interested in a particular piece.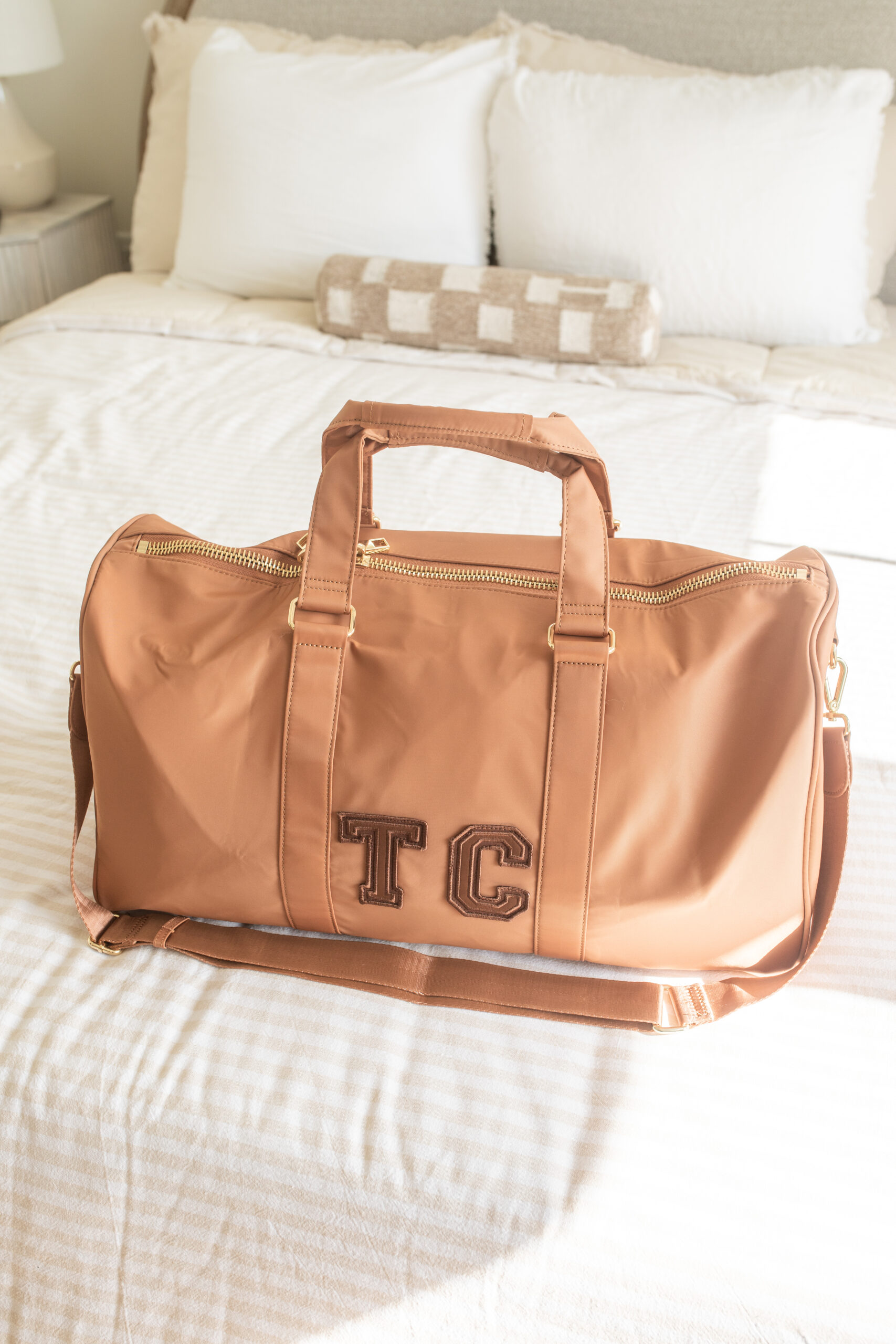 About this style: The duffle bag is my personal favorite Stoney Clover bag style (12″H x 22″L x 8.5″D). It is the perfect travel bag. It can fit a surprising amount and folds down for easy storage when you're not traveling. I've been able to use a duffle bag to pack for a 4-5 day trip, and I love that it fits under my seat when I'm on a plane (of course this may vary by airline). Best used for: I recommend using the duffle bag for smaller length trips (1-4 days) and as a carry-on for longer vacations. What can fit inside: A couple of outfits, a toiletry bag, two pairs of shoes, a travel pouch and a tech organizer.
About the style: The small pouch is my personal favorite pouch style (5″H x 9.5″ W). It's about double the size of the mini pouch and I feel it's the most versatile. You can fit a bunch of items inside, and it has a great amount of space on the exterior for customizing. Best used for: makeup bag and toiletries for a trip.
About this style: The large pouch is the largest Stoney Clover pouch style (8″H x 11″L). Best used for: The larger pouches are great for hair tools, to use as packing cubes, and for storing tech accessories when traveling. Two small pouches actually fit inside of the large pouch with room on top for extras. When I'm traveling, I usually put two small pouches in a large (one small pouch for makeup and one for skincare), and then fill the remaining space on top with my curling iron, straightener, and hair brush. What can fit inside:
About this style: The clear front small pouch is a transparent version of their original small pouch. The small pouch is one of Stoney Clover's most versatile sizes, and it's great that this version allows you to see exactly what's inside.
About this style: Once in awhile Stoney Clover releases pouches that have embroidered designs on them and they're some of my favorites. They're not available all the time, but this year they released quite a few and still have some available from one of their latest collections.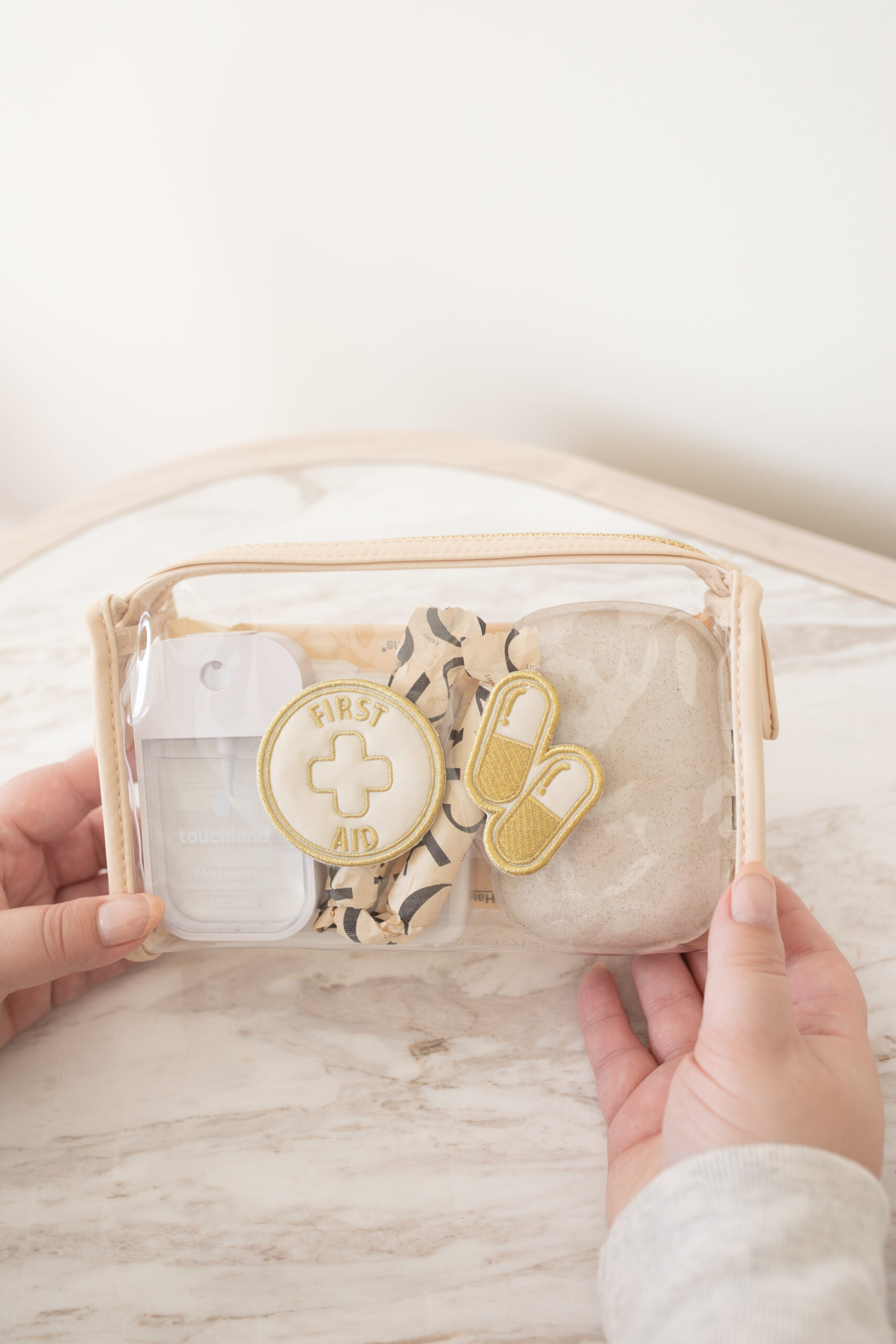 About this style: The travel pouch is somewhere between the mini and small pouch. Unlike most of Stoney Clover's other styles, this pouch is transparent (which I love). Best used for: I use the travel pouches similarly to the mini pouches. Either filled with small essentials in my purse or on the plane with things I may want to grab easily like headphones, hand sanitizer, lip balm, and gum. It also makes a great "first aid kit" size.
About the style: The mini pouch is the smallest style Stoney Clover currently offers (5″ H x 4.75″ W). Best used for: I personally love using the mini pouch to store my everyday beauty products within my purse. It's great because you can fit a surprising amount inside of it, yet it's easy to transfer from bag to bag.
About this style: The clear front mini pouch is a transparent version of their classic mini pouch. You can fit everything you can fit in their standard mini, but now you're able to see what's inside without opening it.
About this style: This style is the cutest! It's a really fun style and I feel like the silhouette is really on trend right now. It's perfect for a night out.
About this style: Their jewelry roll makes it really easy to travel with jewelry. It has designated areas for your earrings, rings, necklaces and bracelets and it's very compact which I appreciate.
About the style: This hands-free option is a great bag for when you're on the go and just need the essentials (6″H x 11″W x 3″D). I love the fanny pack because I can keep my hands completely free, and don't have to worry about putting my purse in a cart or on a table that might be dirty. Best used for: The fanny pack fits the essentials; phone, wallet or card case, hand sanitizer, lip balm, and a couple of small extras. I love using it for daily errands, but it's also perfect for traveling because you can keep your money, ID, and other important items close to you.
About this style: In more recent releases, Stoney Clover launched a jumbo version of their fanny pack and it is one of my all-time favorites. I have such a thing for belt bags right now and I love how this one can fit a ton of products. It can fit substantially more than their original fanny pack.
About the style: The backpack comes in two styles; classic and classic mini. I don't own the mini version, so I'm going to be chatting strictly about the classic version. Best used for: I love using this style when I'm traveling by plane. I used it on our trip to Europe last fall and it was amazing. I was able to fit everything I needed for the plane ride, and it felt so comfortable on my back. I love being hands-free when I travel. Once we arrived in Europe, I used it sightseeing every single day. Each morning I'd pack it with what I needed, and I was always prepared for whatever the day would bring. I loved that even though it's a backpack, it looked so cute and feminine with all of my outfits because it was a beautiful bright white and personalized with pretty patches.
About the style: The tote is another one of my favorite styles. The tote comes in two sizes, classic and mini, and I love each style for different reasons. Best used for: The classic tote is very spacious. You can use it for daily life, but I highly suggest using it as an overnight bag. However, when you don't fill it up completely, it has a cute slouchy look that I think does work for daily use. My personal favorite everyday bag is the Mini Classic Tote. It's smaller and a bit more structured, and can still fit everything that you may need in a day. Inside the Mini Tote I can fit my planner, laptop, iPad, wallet, phone, and other odds and ends comfortably.
About the style: With every Stoney Clover launch I fall more and more in love with the brand, and I feel like it's because they take practical, useful items you may use or need in daily life, and put a fun spin on them. Their notebook launch was no exception. I would compare their notebook more to a planner cover. It includes a notebook that buttons inside, but you can also add whatever planner you want to it. Best used for: planner cover, document holder, or book cover.
FAQ
Q: What product do you recommend for someone who is on a tighter budget?
A: If you're on a tight budget, I recommend the travel pouch! It's one of their lower price points, but it's also one of my favorite styles. It's really versatile and a great introduction to the brand.
Q: Which product do you think would make the best gift?
A: I think the small pouch personalized with a few patches. It was one of my first Stoney Clover pieces, and one I still treasure today.
Q: Should I have my patches sewn on or can I just stick them on myself?
A: There is a fee to have the patches sewn on, but I would almost always recommend it. I haven't had any issues with the few patches I haven't sewed on, but when you're investing in the pouches and patches, I think it's worth it to have them sewn on for permanence.
Q: Which limited edition collection or collaboration was your favorite?
A: It used to be their Cozy Collection, but the embroidered pieces from their Homecoming Collection are unbelievable!
Q: Styles under $100 you recommend?
A: Travel pouch, mini pouch, small pouch, and fanny pack!
Q: Favorite pouch and bag colors?
A: Camel, Chocolate, Sand, Sparkling Cider, Blanc, and Buttercream.
Q: What are your favorite patches?
A: Varsity Glitter Letters, Jumbo Pearl Airplane, and Glitter Heart!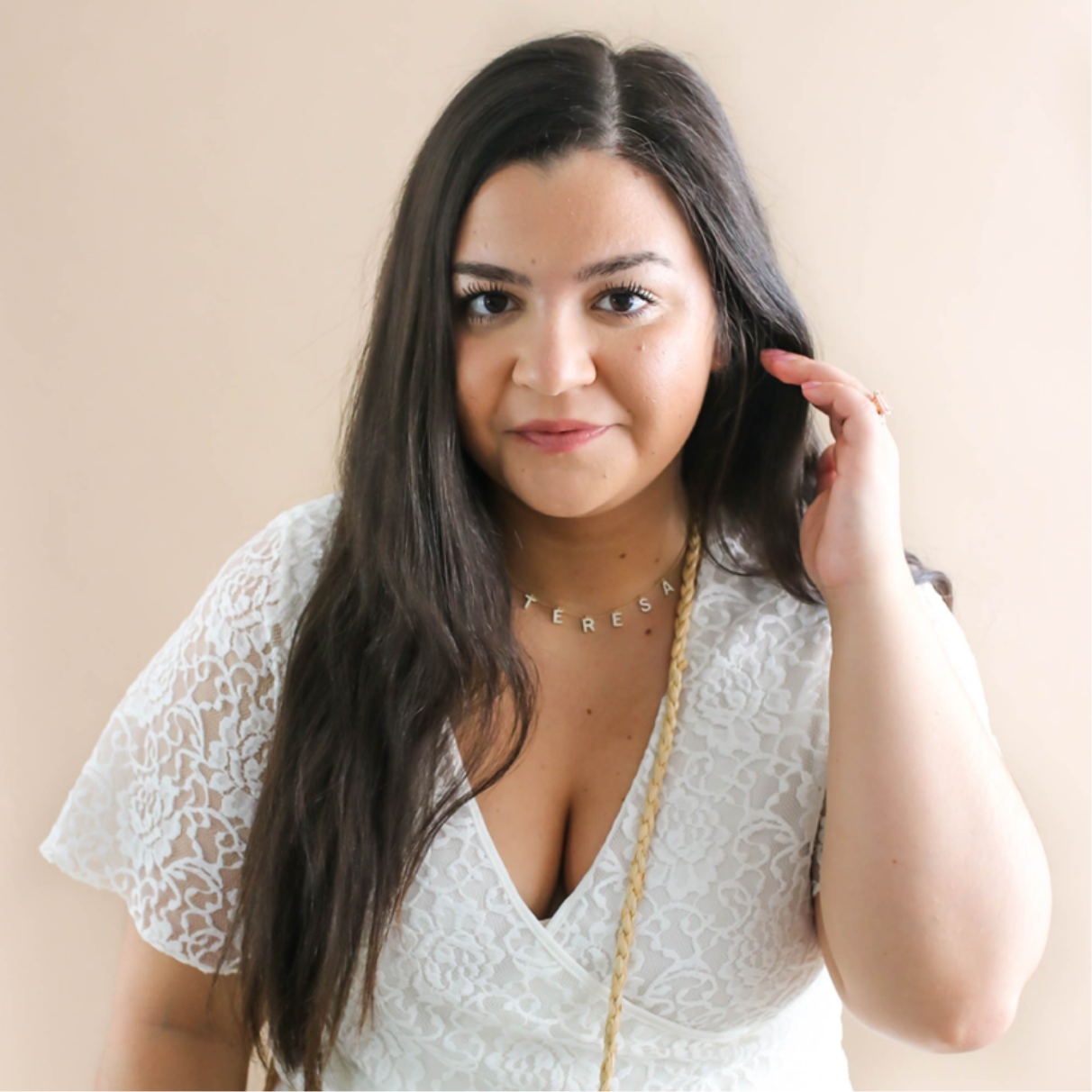 You might also like