Favorite Amazon Purchases: Part Four
The next installment of my Amazon series is finally here! Every few months I round-up my favorite Amazon purchases. If you've been reading my blog for even the shortest amount of time, then you know how much I love Amazon.
The next installment of my Amazon series is finally here! Every few months I round-up my favorite Amazon purchases. If you've been reading my blog for even the shortest amount of time, then you know how much I love Amazon. I literally get every penny's worth out of my Amazon Prime membership. It's kind of embarrassing to admit, but Matt and I order from Amazon at least twice a week (sometimes five). It's not hard to do considering they carry every product known to man. Since Amazon carries thousands and thousands of products, the site can be a bit overwhelming and it's easy to miss out on amazing finds. Lucky for you, because I order from Amazon so frequently, I've found quite a few hidden gems. From furniture to fashion to everyday basics, I've ordered it all. Most of the favorites I'm sharing today ship free with Amazon Prime. If you don't have an Amazon Prime membership, I highly recommend you sign-up. It is absolutely worth the fee, and we get our money's worth every single month. If you want to test the membership out before paying, Amazon actually offers free 30-day trials for new members. Now, onto my favorite Amazon purchases:
1. Glass Makeup Organizer | As most of you know, I recently redecorated my bedroom, which meant giving my vanity area a little revamp. I wanted to find an organizer that would display and organize a few of my everyday beauty products without looking messy or overwhelming. When I spotted this glass makeup organizer for a little over $20, I knew it would work well. I am so impressed with the quality, and it fits the perfect amount of product.
2. Brass Drawer Display Box | I found this beauty quickly after spotting the glass makeup organizer. I grabbed this drawer display box to style on my dresser and store any loose jewels or odds and ends. It matches the mirror we have perfectly, and I love how it gives that Anthropologie vibe with an affordable price tag.
3. Wireless Keyboard & Mouse | A few months ago, a couple of keys in the keyboard of my laptop stopped working. I didn't have time to get it fixed, nor did I want to spend a million dollars to do so. I quickly ordered this wireless keyboard & mouse on Amazon, and it solved the problem instantly. Even though my laptop has since been replaced, I can't stop using this keyboard & mouse combo. I switch it back between my laptop and iMac, and I find it so much more comfortable. It's also pretty adorable if I do say so myself.
4. Wood Wardrobe | Earlier this year I was in desperate need of extra clothing storage in my office. I like to keep the current pieces I'm styling and sharing on my blog on hand, but I was sick of keeping them in shopping bags or boxes. I instantly fell in love with this wood wardrobe, but felt it didn't exactly match the space. Then I remembered my motto when it comes to furniture and decor, "when in doubt, paint it white & gold". And that's exactly what I did. I painted the frame white, spray painted the clothing rod gold, and now it's the perfect Teresa-approved wardrobe. I am so impressed with how durable the wardrobe is compared to previous clothing racks I've owned, and I LOVE how much storage space it provides with the built-in shelves. It's a must-have for small spaces. You can check out my DIY here.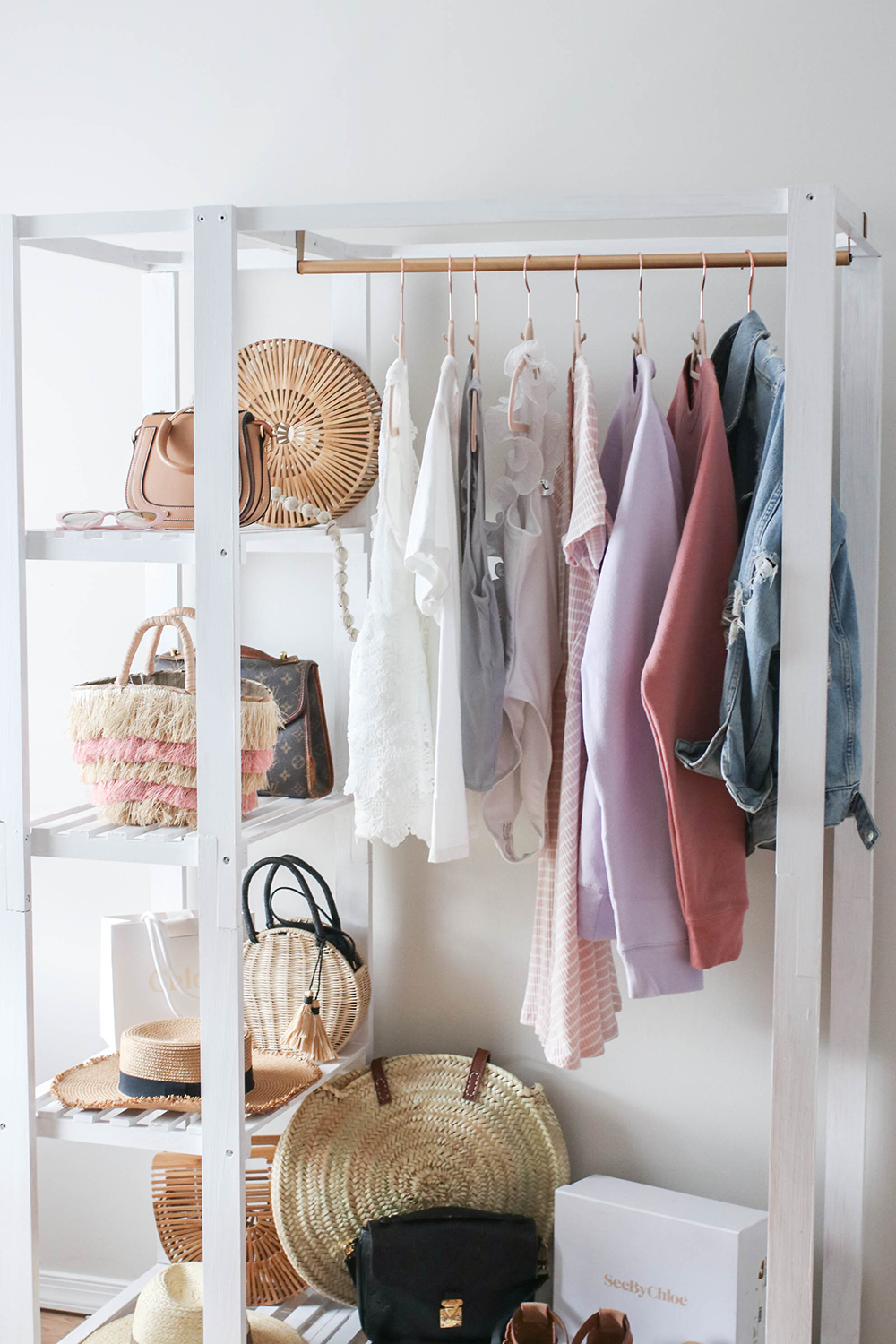 5. Amazon Performance Capri Leggings | Last month I decided last-minute to join my parents and my best friend's family on a trip to Disney World. This summer I bought virtually no new clothes, so I had nothing to pack. With little time to go shopping before we left, I turned to Amazon (of course). I ordered these capri leggings on a whim, and they have quickly become my favorite leggings ever. I'm only 5'2″, so capri leggings are great because they usually fit me like regular leggings, with just a slight crop. They're super comfortable, and opaque. I'll admit, it was so weird seeing Amazon on the back label, but I'm not shocked that even my everyday wardrobe is from Amazon now.
6. Neoprene Dumbbell Set | I recently came to the conclusion that I virtually don't exercise. I've never been one to stick to an exercise routine, and with working from home it's really easy to fall into a pattern of little to no physical activity daily. I decided that I wanted to make a change, and in addition to nightly power walks with Matt at the park, I also wanted to start doing workout videos at home. A few mornings a week, I take my little dumbbell set out, put on a YouTube video, and do about a half hour of exercise. It's nothing crazy, and I am far from an expert, but I feel so much better. I don't know if it's all in my head, but I feel stronger (and more accomplished) every single time I exercise.
7. YETI Rambler Tumbler (30oz) | In addition to adding exercise into my routine, I also recently decided that it was important I drink more water. I am someone who can LIVE off of diet soda. Yes, I know how bad that is. I wish I enjoyed drinking water, but I'm someone who has to actively remind themselves to do so. Rather than waste a million water bottles per day, I bought this giant YETI Rambler Tumbler to hold me accountable and help me reach my daily water goals. You guys, it really works! I don't know if it's because I have this giant tumbler staring me in the face all day, but I have been drinking so much more water lately, and I've really cut back on soda.
8. Down Pillow Set | When we were redecorating the bedroom last month, I realized we were in desperate need of some new pillows. After a little searching, I ended up ordering this set, and they are some of the most comfortable pillows I've ever owned. Full disclaimer, I'm not super picky when it comes to pillows, but if you're looking for a great, inexpensive set, definitely give these a try.
9. TimeCube Timer | This year has proven to be extremely busy. Between work, wedding planning, personal responsibilities, and everything in between, I was starting to feel really defeated. It started to feel like there just weren't enough hours in the day, and I knew I needed to do something about. After some research, I ended up discovering time-blocking. Time blocking is a time management tool that helps you better allocate your time. You basically give yourself a set amount of time to accomplish one particular task. For instance, giving yourself 30 minutes to answer e-mails. To hold myself accountable with time blocking, I use a TimeCube. It's a timer you can set for 5, 15, 30, and 60 minutes. I don't know what it is about this timer, but every time it goes off, I actually follow it. It's almost like hearing the bell in between classes during high school. Whatever it is, it's helped me tremendously. It's trained me to focus on the task at hand, and also prevents me from spending too much time on one task.
Be sure to check out the first three parts of my Favorite Amazon Purchases, where I share more Amazon buys that I love and recommend:
Don't forget that you can sign up for a free 30-day trial of Amazon Prime here. I promise you won't regret it! You'll be Amazon-obsessed like me in no time at all.
What's your favorite Amazon purchase of all-time?
Last Updated: Apr 21, 2023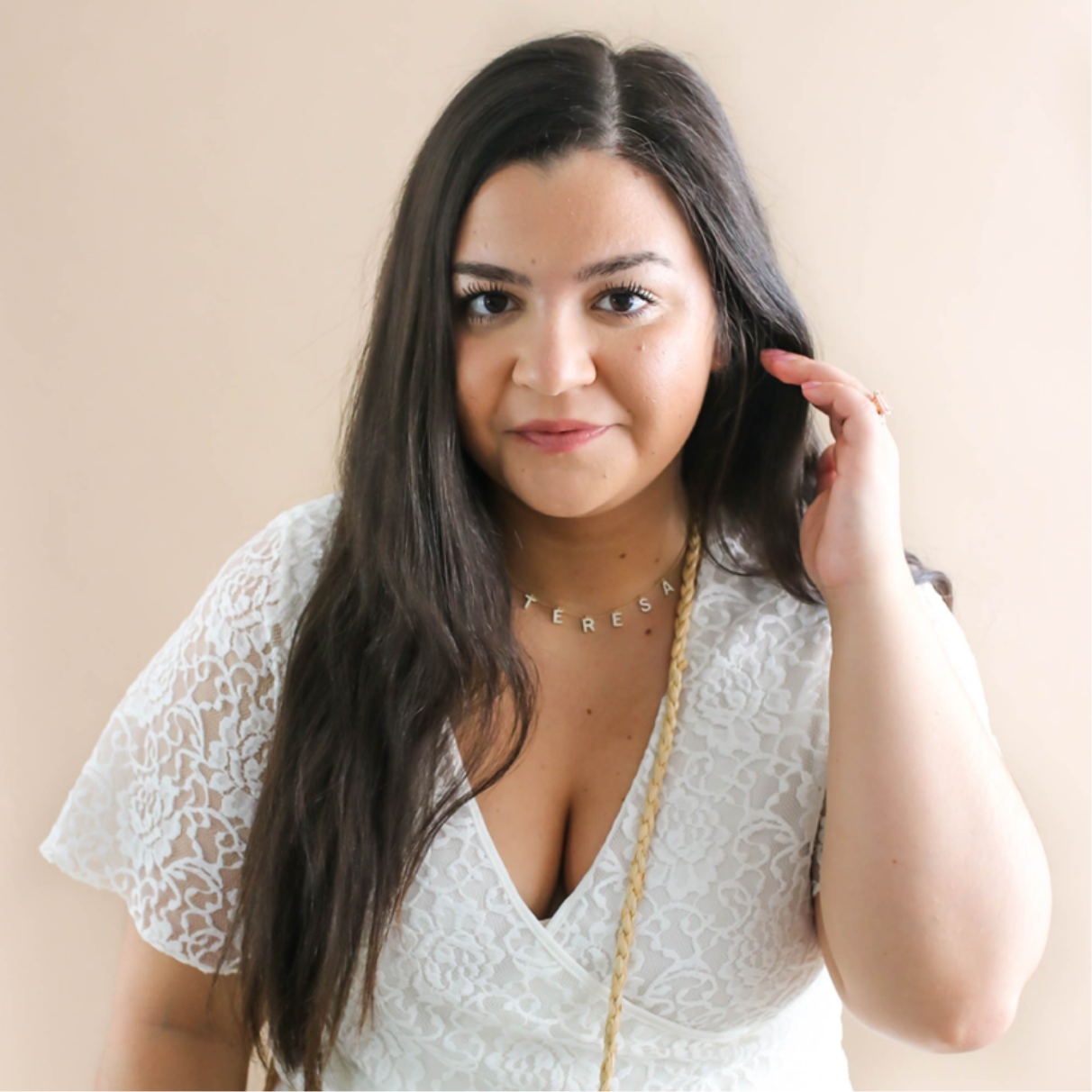 You might also like