How I Organized Our Cleaning Closet
After some trial and error, I gave my cleaning closet a little update. Let me tell you, it's made such a difference! It's also one of those things where once you organize and clean a space, it's more motivating to keep it that way.
We all have them: cleaning closets. A little space where you keep all of your brooms, mops, vacuum, other cleaning supplies, and basically everything that isn't aesthetically pleasing whatsoever. They're also usually not very organized since everything is hidden and things are frequently going in and out. I know before I took on the project to organize our cleaning/broom closet, it was a total mess! Although people aren't peeking into our cleaning closet when they come over, I knew I wanted the storage space to feel more functional. It would allow me to store more items and make sure that everything has a place. But with such a tiny little closet and products that are big and awkward to store, it was hard to know where to start. 
After some trial and error, I gave my cleaning closet a little update. Let me tell you, it's made such a difference! It's also one of those things where once you organize and clean a space, it's more motivating to keep it that way. I definitely feel that way about our cleaning closet, so I put together exactly what I did to organize our cleaning closet so you can give your storage space a little update, too.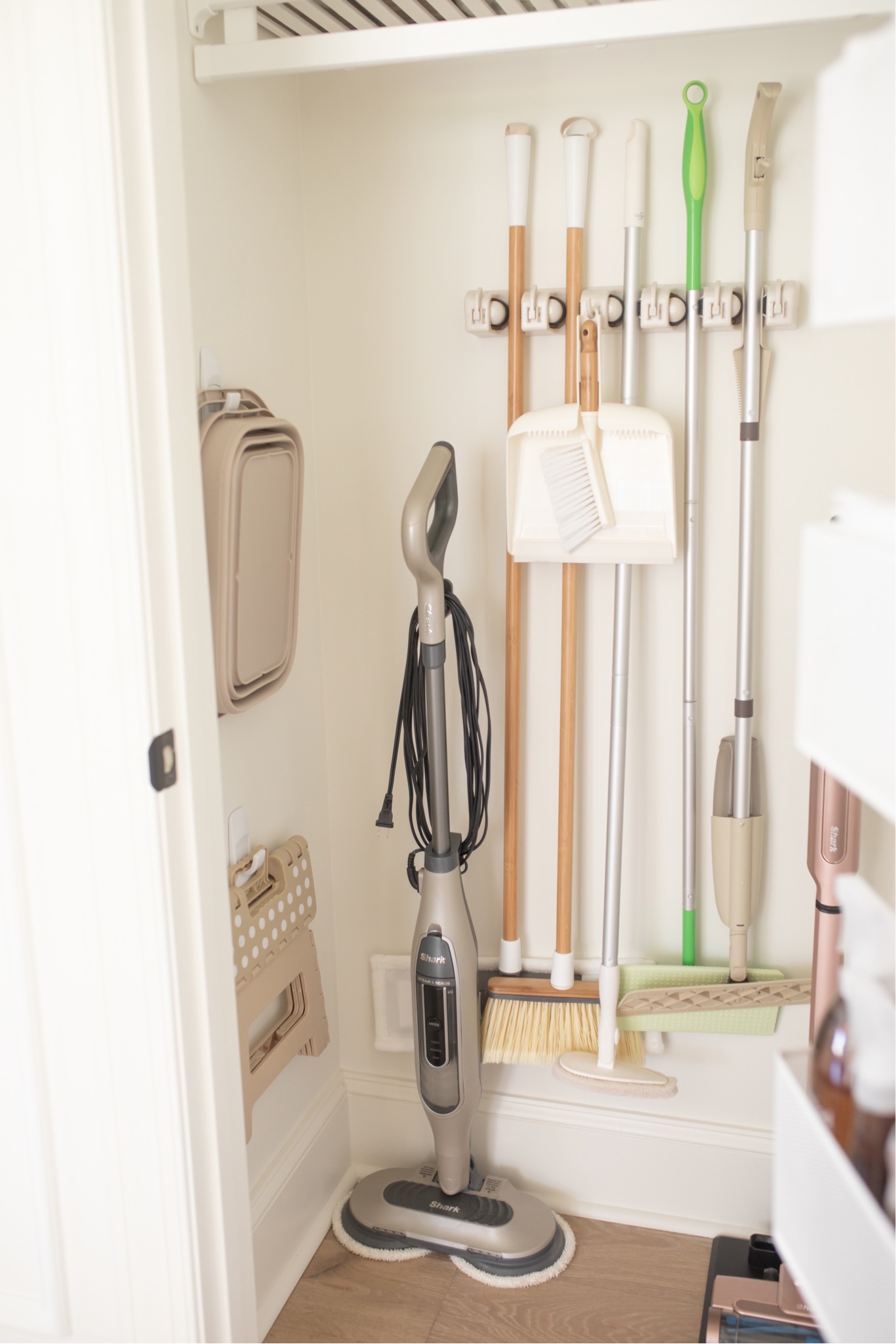 Okay, if you're going to start anywhere, start here. Mops and brooms are pretty awkward to store since you have to kind of just lean them against the wall or shove them somewhere in your closet. Once I got this mop and broom holder it completely changed the game! It has spring-loaded slots that you can quickly click your broom or mop into and also has hooks that you can hang brushes or dusters on. It's pretty heavy duty so you don't have to worry about weight either. This alone cleaned up my cleaning closet and opened up so much space. 
This might seem a little obvious, but command hooks were super helpful for us when organizing our cleaning closet. I didn't want to put a ton of nails in the wall, so we grabbed these jumbo command hooks and they did the job perfectly. Of course, you can use them for anything, but we used them to hold our stepping stool and bucket. Both items that were leaning on the wall or just on the floor, they're now hung neatly on the wall freeing up so much more space! 
For all of your different bottles or cleaning liquid, try out this rolling cart! Of course, usually different cleaning sprays are stored under the sink or in other cabinets. But for the products you have extra of, or products you aren't using frequently enough to keep under the sink, this rolling cart is perfect. It has 3 levels to store a lot of different products and its rolling ability allows easy maneuvering. Plus, if you're cleaning and don't want to carry a bunch of different sprays and cleaning products, you can easily roll the cart to whatever room you're in and roll it back to the closet when you finish!
More Cleaning Supplies
While this isn't exactly an organizational product, it can be used as one, and definitely is one of my favorites for cleaning! It's great to put cleaning solution in for heavy-duty mopping, or sometimes I even use it to carry different cleaning products or throw used cleaning towels in! You can do so much with this bucket. The best part about it is that it's completely collapsable, allowing easy storage. It doesn't take up a ton of space like a traditional plastic bucket and collapses into a small, flat piece. We hang ours on the wall using the command hooks.
I love a good Swiffer Wet Jet as much as the next person, but this Shark mop takes it to the next level. It's a mop and steamer all in one, so it gets any stubborn dirt off of your floor leaving your floor super, super clean. I don't use this every time I clean the floors, but when they need a good, deep clean this is my go-to. Worth every penny!
For a quicker clean, I like to use this spray mop on the floors. You easily can fill the refillable bottle with cleaning solution which sprays out on the floor at the touch of a button. This specific mop comes with 3 microfiber pads, too! You can also dry mop the floor using this mop, so it's super functional for any type of cleaning you're in the mood to do. 

There are so many other organizational and cleaning products I have been using, so if you want more, make sure to check out my Amazon Storefront where you can find even more of my go-to's!
Last Updated: Apr 19, 2023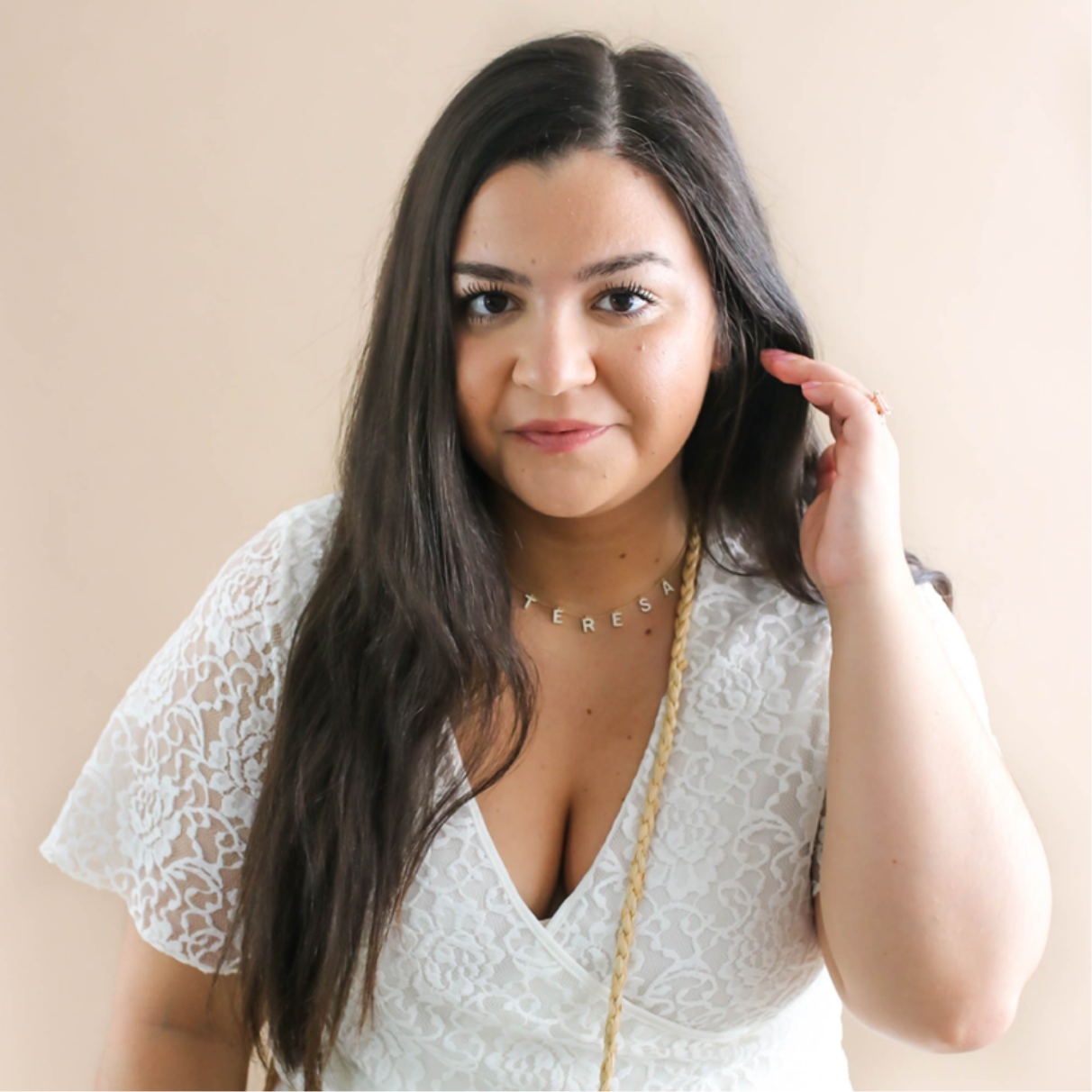 You might also like